Welcome to the Harford County Snow Plow Tracker: Working Till the Plows Come Home!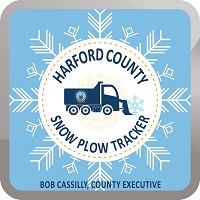 Access Terms, Conditions and Disclaimers
The data presented in this application is for informational purposes only. The data is created and maintained for the purposes of updating citizens. The intent is to provide accurate data; however, Harford County, Maryland, assumes no liability for any inaccurate, incorrect or incomplete data that may be presented. Furthermore, Harford County, Maryland, shall not be liable for any loss or damages, consequential or otherwise, arising from the use, operation or interpretation of the data and by agreeing to these terms and using this application the user hereby releases Harford County, Maryland, from any and all liability of any nature arising out of or resulting from the lack of accuracy or correctness of the data, or the use of the data.
Harford County's Snow Plow Tracker website is not activated at this time. The Snow Plow Tracker is activated for snow events of generally 6 or more inches of accumulation